the Test Bed
This is where it all goes down, from PPC Ubuntu server installs to Apple compatibility cards...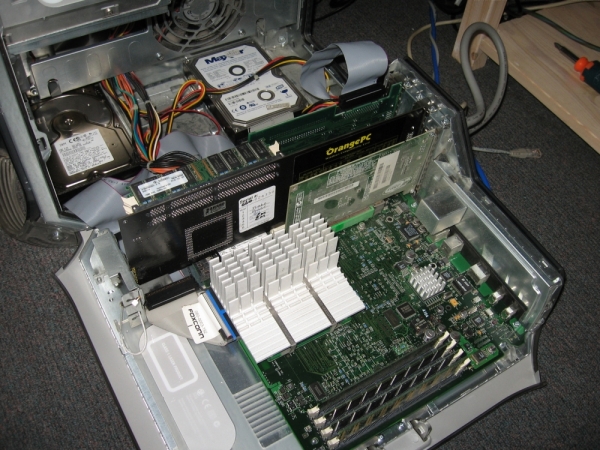 Apple Power Mac G4 http://lowendmac.com/ppc/g4mp.html
400 mhz powerpc cpu (upgraded to dual 500 using cpu module from another G4, not a 3rd party upgrade)
896mb ram (256x3, 128x1, 2gig max)
ATI rage AGP card
Onboard Gigabit ethernet
40gig ata drive
9gig scsi drive
Adaptec scsi card (3rd pci slot)
OrangePC 660 card (1st pci slot)
Windows 98 (may test with win95...tiny linux?)
256mb ram (2x128)
Amd K6-2 400
Operating System:
9.2- I was going to go nuts and install Os 9, Os X, and Ubuntu for tri boot glory, however, I couldn't get them to play nice with each other in the amount of time I have to play. I'll have to save tri-booting till my next computer, circa 2000-never...
caveats:
* Os X does not want to boot (not even the install cd!) with the scsi card in there. Thats fine, this computer is really only useful to me for playing with the OrangePC cards :)
* my Cd drive sucks
Possible future upgrades:
* Could load up on ram, though, the OrangePC cards have their own ram, so windows is only going to run so fast...
* May replace the cd drive...
* Looking at dual cpus pulled from similar machines, but only cheap ones on ebay. Even then, not sure how much I'll gain within Os 9...DONE!
* could use a new video card... display looks like crap on my LG 19" LCD. Hey, it's a 16mb Rage card...